The Languages of Norway
Norwegian is spoken by approx. 5 million people. 90% of the population of Norway learn Norwegian as their mother language. Official minority languages are Saami, Kven, Romanes and Norwegian Romani. The largest immigrant communities who migrated to Norway are from Poland, Germany, Sweden and Iraq. In Norway, there is no official, standard spoken Norwegian. Although the dominant variety is the one spoken in Oslo and its surroundings, people generally expect other regional dialects to be understood. Dialects are used everywhere in the public sector and national broadcast, and the national language policy supports and encourages the use of dialects. This circumstance complicates the automatic speech recognition of the language. With Bokmål and Nynorsk, Norwegian has two different writing standards. Officially, both standards are equal and taught in school, however Bokmål is used by 87% and Nynorsk is used only or primarily by 13% of the population. Norwegian is a North Germanic Language and closely related to Danish and Swedish.
Features of Norwegian:
Compounding is a highly productive word formation process, which causes long words.
Different dialects have a contrastive use of pitch realised as two distinctive word intonations.
The two written standards differ significantly in every level of the language, from grammar to spelling. Even within each standards, there is significant variety in spelling and morphology.
NCC Lead Norway
Dr. Kristine Eide is a Senior advisor at the Norwegian Language Council. She works to implement strategies for sharing language resources for Norwegian language technology research and development, with particular emphasis on dialects and Nynorsk. She is originally a specialist in Romance languages, has a PhD (2006) in Portuguese historical syntax and has taught Portuguese and Romance philology at the University of Oslo since 1993. She has worked with corpus linguistics and was the Co-founder and Co-project leader of the ISWOC project (Information Structure and Word Order Change in Germanic and Romance Languages), including the production of a dependency treebank with morphosyntactic and information structure annotation. She has (co-) written several scientific articles on historical syntax, prosody and information structure change.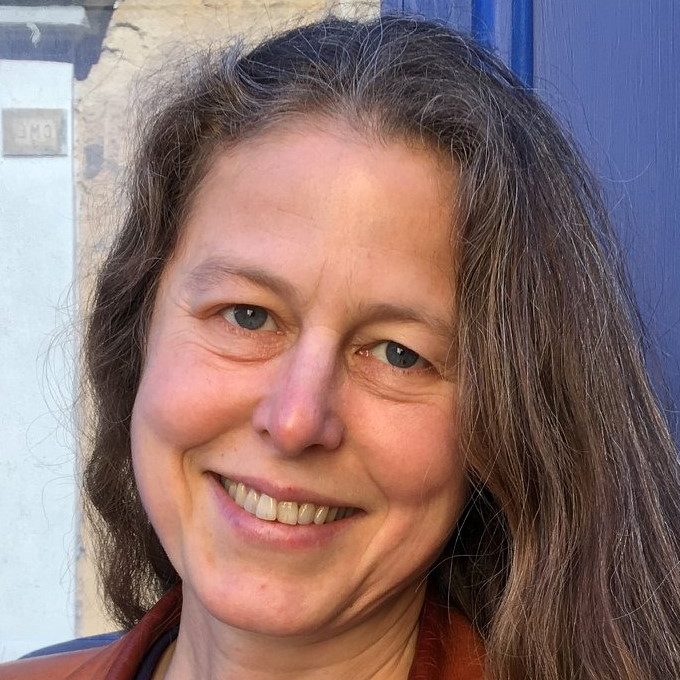 Current National Initiatives
In 2020, the National Strategy for Artificial Intelligence was published. In this strategy, Language Technology and Language Resources are identified as an important sub-domains of AI. There is a funding programme for AI research, which is linked to the strategy.
In 2020,a white paper on the state of the Norwegian language and language policies was published where Language Technology is identified as necessary for digitalisation and for maintaining the position of the Norwegian language at all levels of society.
In 2010, an LT resource collection for Norwegian, the Norwegian Language Bank (Språkbanken) was established in the National Library. The bank shares open resources for research and development of LT products and services. The funding for these resources was increased in 2019, by a yearly increase of NOK 10 million to the National Library (9 million) and The Norwegian Language Council (1 million).
Events
2022
13th National ELG Workshop: Norway
National workshop
Norway
January 26
META-NET White Paper on Norwegian
Koenraad De Smedt, Gunn Inger Lyse, Anje Müller Gjesdal, and Gyri S. Losnegaard. Norsk i den digitale tidsalderen (bokmålsversjon) - The Norwegian Language in the Digital Age (Bokmål Version). META-NET White Paper Series: Europe's Languages in the Digital Age. Springer, Heidelberg, New York, Dordrecht, London, 9 2012. Georg Rehm and Hans Uszkoreit (series editors).
Full text of this META-NET White Paper (PDF)
Additional information on this META-NET White Paper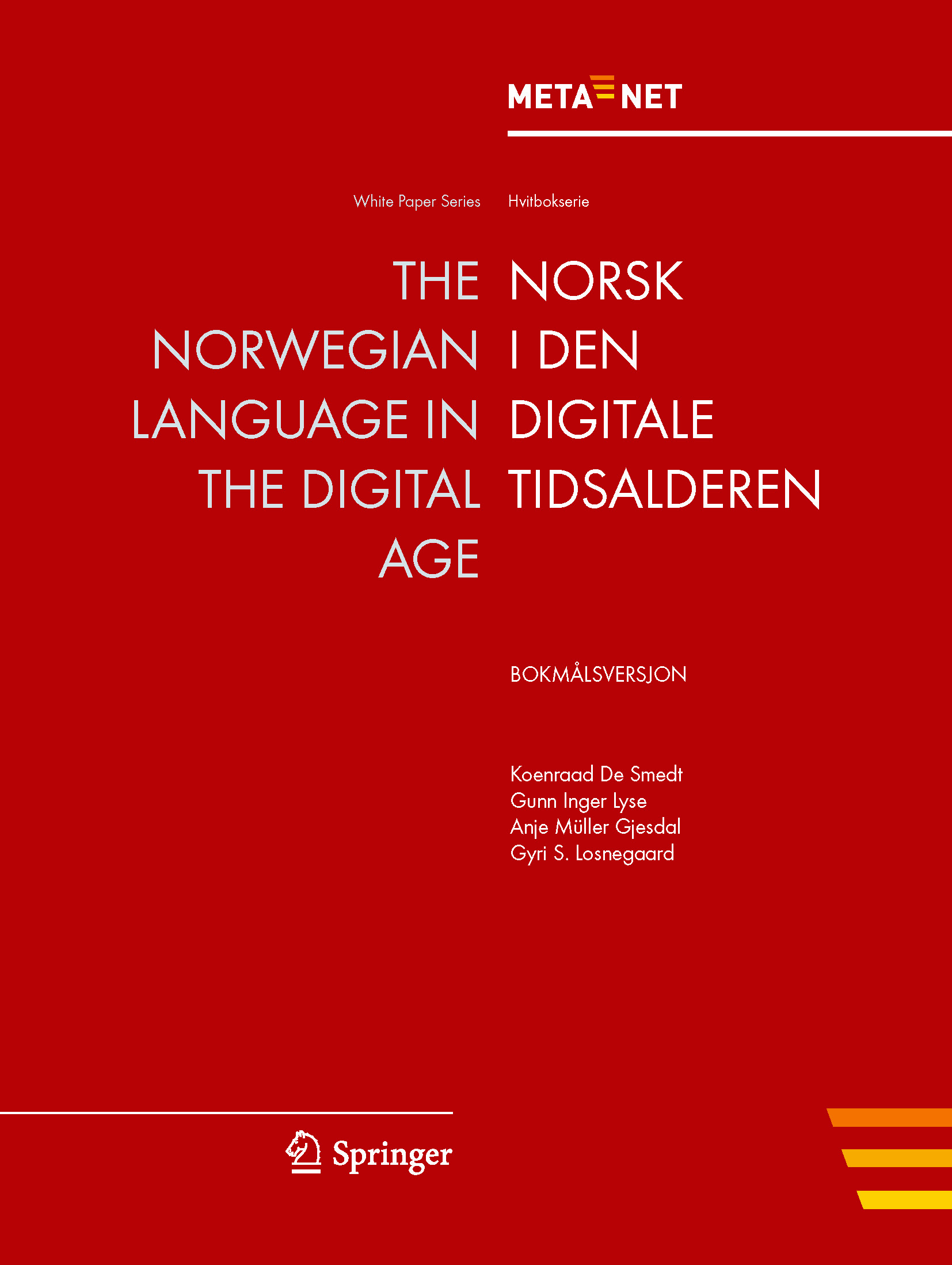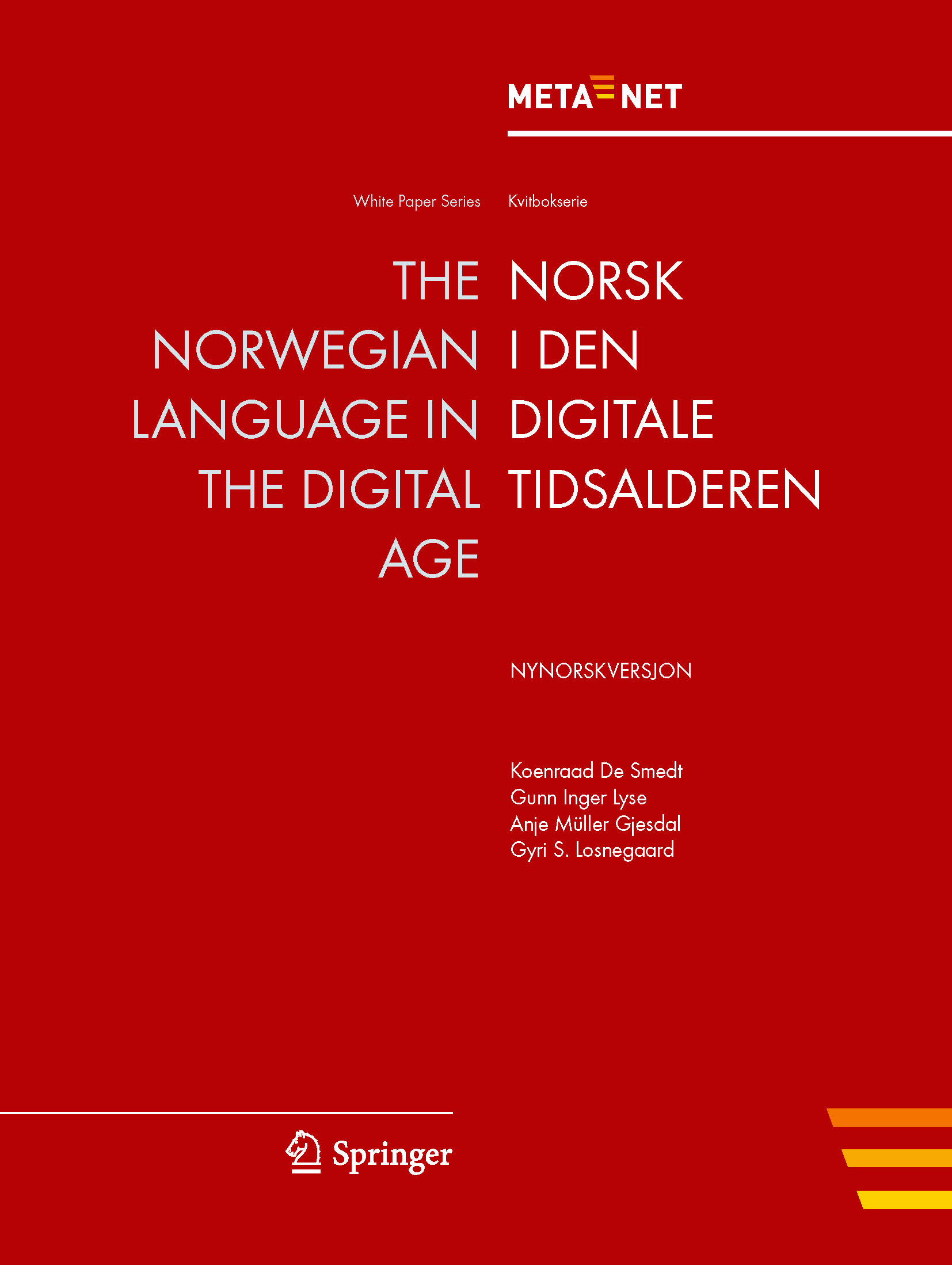 Availability of Tools and Resources for Norwegian (as of 2012)
The following table illustrates the support of the Norwegian language through speech technologies, machine translation, text analytics and language resources.
Speech technologies
Excellent
support
Good
support
Moderate
support
Fragmentary
support
Weak/no
support
Machine translation
Excellent
support
Good
support
Moderate
support
Fragmentary
support
Weak/no
support
Text analytics
Excellent
support
Good
support
Moderate
support
Fragmentary
support
Weak/no
support
Language resources
Excellent
support
Good
support
Moderate
support
Fragmentary
support
Weak/no
support