European Language Grid: A Language Technology Platform for Multilingual Europe
If you'd like to refer to the European Language Grid initiative and platform in a general way, please cite the following book.
Have a look into our press release here!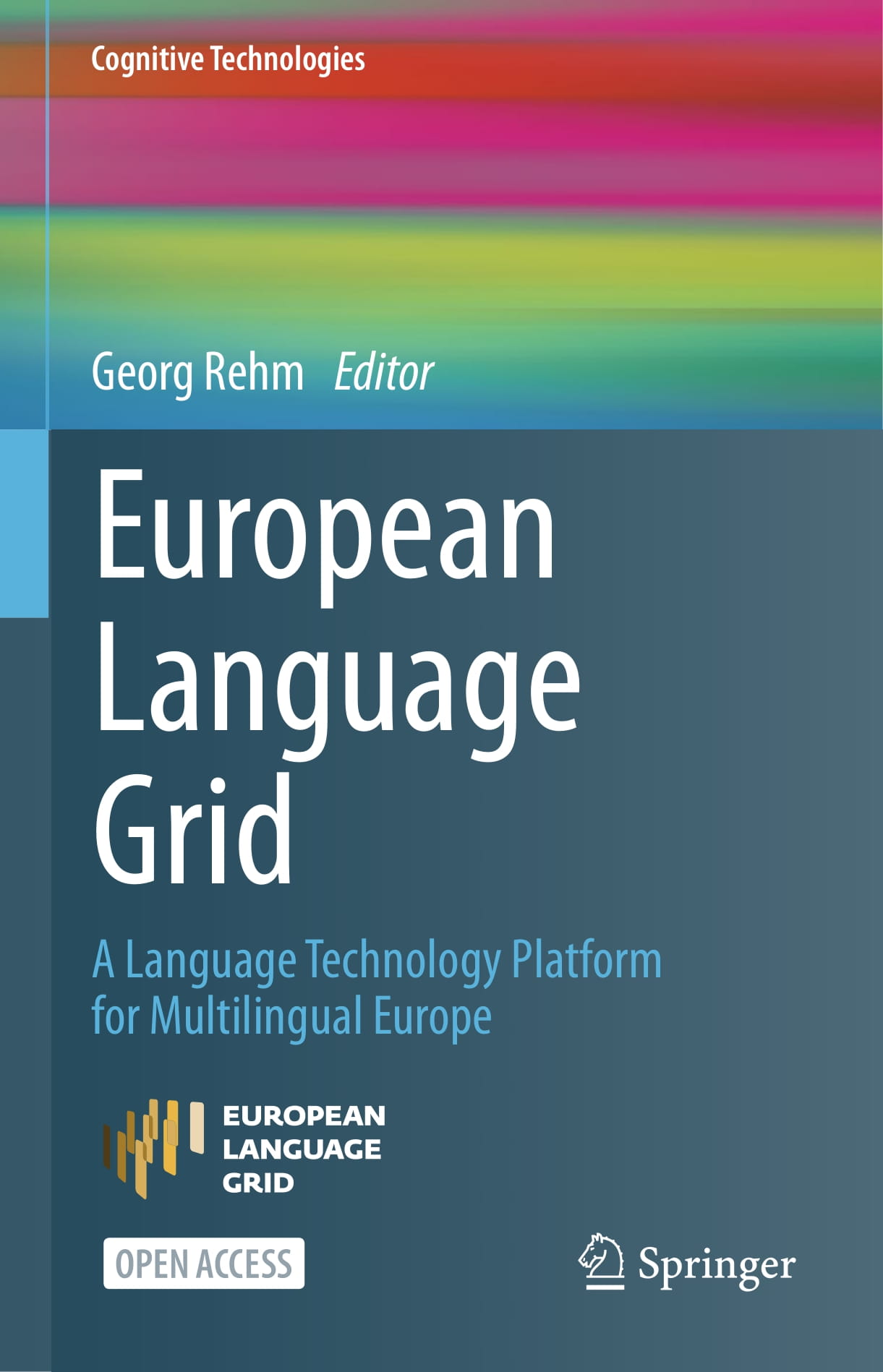 Georg Rehm (Ed.). European Language Grid: A Language Technology Platform for Multilingual Europe. Cognitive Technologies. Springer, Cham, Switzerland, January 2023. [bibliographic information|PDF file with the full text of the book]
This open access book provides an in-depth description of the EU project European Language Grid (ELG). Its motivation lies in the fact that Europe is a multilingual society with 24 official European Union Member State languages and dozens of additional languages including regional and minority languages. The only meaningful way to enable multilingualism and to benefit from this rich linguistic heritage is through Language Technologies (LT) including Natural Language Processing (NLP), Natural Language Understanding (NLU), Speech Technologies and language-centric Artificial Intelligence (AI) applications.
The European Language Grid provides a single umbrella platform for the European LT community, including research and industry, effectively functioning as a virtual home, marketplace, showroom, and deployment centre for all services, tools, resources, products and organisations active in the field. Today the ELG cloud platform already offers access to more than 13,000 language processing tools and language resources. It enables all stakeholders to deposit, upload and deploy their technologies and datasets. The platform also supports the long-term objective of establishing digital language equality in Europe by 2030 – to create a situation in which all European languages enjoy equal technological support.
This is the very first book dedicated to Language Technology and NLP platforms. Cloud technology has only recently matured enough to make the development of a platform like ELG feasible on a larger scale. The book comprehensively describes the results of the ELG project. Following an introduction, the content is divided into four main parts: (I) ELG Cloud Platform; (II) ELG Inventory of Technologies and Resources; (III) ELG Community and Initiative; and (IV) ELG Open Calls and Pilot Projects.
Table of Contents
European Language Grid: Introduction
Georg Rehm
ELG Cloud Platform
The European Language Grid Platform: Basic Concepts
Stelios Piperidis, Penny Labropoulou, Dimitris Galanis, Miltos Deligiannis, Georg Rehm
Using the European Language Grid as a Consumer
Ian Roberts, Penny Labropoulou, Dimitris Galanis, Rémi Calizzano, Athanasia Kolovou, Dimitris Gkoumas, Andis Lagzdiņš, Stelios Piperidis
Contributing to the European Language Grid as a Provider
Dimitris Galanis, Penny Labropoulou, Ian Roberts, Miltos Deligiannis, Leon Voukoutis, Katerina Gkirtzou, Rémi Calizzano, Athanasia Kolovou, Dimitris Gkoumas, Stelios Piperidis
Cloud Infrastructure of the European Language Grid
Florian Kintzel, Rémi Calizzano, Georg Rehm
Interoperable Metadata Bridges to the wider Language Technology Ecosystem
Penny Labropoulou, Stelios Piperidis, Miltos Deligiannis, Leon Voukoutis, Maria Giagkou, Ondřej Košarko, Jan Hajič, Georg Rehm
ELG Inventory of Technologies and Resources
Language Technology Tools and Services
Ian Roberts, Andres Garcia Silva, Cristian Berrìo Aroca, Jose Manuel Gómez-Pérez, Miroslav Jánoší, Dimitris Galanis, Rémi Calizzano, Andis Lagzdiņš, Milan Straka, Ulrich Germann
Datasets, Corpora and other Language Resources
Victoria Arranz, Khalid Choukri, Valérie Mapelli, Mickaël Rigault, Penny Labropoulou, Miltos Deligiannis, Leon Voukoutis, Stelios Piperidis
Language Technology Companies, Research Organisations and Projects
Georg Rehm, Katrin Marheinecke, Rémi Calizzano, Penny Labropoulou
ELG Community and Initiative
European Language Technology Landscape: Communication and Collaborations
Georg Rehm, Katrin Marheinecke, Jens-Peter Kückens
ELG National Competence Centres and Events
Katrin Marheinecke, Annika Grützner-Zahn, Georg Rehm
Innovation and Marketplace: A Vision for the European Language Grid
Katja Prinz, Gerhard Backfried
Sustaining the European Language Grid: Towards the ELG Legal Entity
Georg Rehm, Katrin Marheinecke, Stefanie Hegele, Stelios Piperidis, Kalina Bontcheva, Jan Hajič, Khalid Choukri, Andrejs Vasiļjevs, Gerhard Backfried, Katja Prinz, Jose Manuel Gómez-Pérez, Ulrich Germann
ELG Open Calls and Pilot Projects
Open Calls and Pilot Projects
Lukáš Kačena, Jana Hamrlová, Jan Hajič
Basque-speaking Smart Speaker based on Mycroft AI
Igor Leturia, Ander Corral, Xabier Sarasola, Beñat Jimenez, Silvia Portela, Arkaitz Anza, Jaione Martinez
CEFR Labelling and Assessment Services
Mark Breuker
European Clinical Case Corpus
Bernardo Magnini, Begoña Altuna, Alberto Lavelli, Anne-Lyse Minard, Manuela Speranza, Roberto Zanoli
Extracting Terminological Concept Systems from Natural Language Text
Dagmar Gromann, Lennart Wachowiak, Christian Lang, Barbara Heinisch
Italian EVALITA Benchmark Linguistic Resources, NLP Services and Tools
Viviana Patti, Valerio Basile, Andrea Bolioli, Alessio Bosca, Cristina Bosco, Michael Fell, Rossella Varvara
Lingsoft Solutions as Distributable Containers
Sebastian Andersson, Michael Stormbom
Motion Capture 3D Sign Language Resources
Zdeněk Krňoul, Pavel Jedlička, Miloš Železný, Luděk Müller
Multilingual Image Corpus
Svetla Koeva
Multilingual Knowledge Systems as Linguistic Linked Open Data
Alena Vasilevich, Michael Wetzel
Open Translation Models, Tools and Services
Jörg Tiedemann, Mikko Aulamo, Sam Hardwick, Tommi Nieminen
Sign Language Explanations for Terms in a Text
Helmut Ludwar, Julia Schuster
Streaming Language Processing in Manufacturing
Patrick Wiener, Steffen Thoma
Textual Paraphrase Dataset for Deep Language Modelling
Jenna Kanerva, Filip Ginter, Li-Hsin Chang, Valtteri Skantsi, Jemina Kilpeläinen, Hanna-Mari Kupari, Aurora Piirto, Jenna Saarni, Maija Sevón, Otto Tarkka
Universal Semantic Annotator
Roberto Navigli, Riccardo Orlando, Cesare Campagnano, Simone Conia
Virtual Personal Assistant Prototype YouTwinDi
Franz Weber, Gregor Jarisch
Bibliographic Information
Book Title: European Language Grid
Book Subtitle: A Language Technology Platform for Multilingual Europe
Editor: Georg Rehm
Series Title: Cognitive Technologies
DOI: https://doi.org/10.1007/978-3-031-17258-8
Publisher: Springer Cham
Copyright Information: The Editor(s) (if applicable) and The Author(s) 2023
License: CC BY
Hardcover ISBN: 978-3-031-17257-1
Softcover ISBN: 978-3-031-17260-1
eBook ISBN: 978-3-031-17258-8
Series ISSN: 1611-2482
Series E-ISSN: 2197-6635
Edition Number: 1
Number of Pages: XXX, 360
Number of Illustrations: 3 b/w illustrations, 81 illustrations in colour
Topics: Natural Language Processing (NLP), Computational Linguistics, Artificial Intelligence, Knowledge Based Systems, Computer and Information Systems Applications, Business Informatics