The Languages of Germany
German is the commonly used language in Germany, Austria and Liechtenstein, and it is one of the official languages of Switzerland, Luxembourg, and Belgium, where it is used by parts of the population. Around the world, German is spoken by around 130 million speakers. Minority languages in the sense of the European Charter on Regional and Minority Languages include Danish and North Frisian in Schleswig-Holstein; Upper Sorbian in Saxony; Lower Sorbian in Brandenburg; Saterland Frisian in Lower Saxony; and the Romani language of the German Roma, and Sinti throughout the country. German has a large variety of dialects including Bavarian and Swabian. By and large, the dialects have the same grammar, although some exhibit slightly different syntactic constructions. The division of Germany into two countries between 1945 and 1989 is still reflected in some lexical differences. German is the second most studied foreign language in the EU after English.
Features of German:
Word order is relatively free in German sentences, allowing for many possible ways to express the same sentence.
The compounding system allows combining words and affixes in a simple way. As a consequence, there are many infinitely long German words.
There is a tendency to use fairly long, nested sentences.
Separable verb prefixes can be positioned far away from their associated verb.
NCC Lead Germany
Prof. Dr. Georg Rehm works as a Principal Researcher in the Speech and Language Technology Lab at the German Research Center for Artificial Intelligence (DFKI), in Berlin. He is the General Secretary of META-NET, an EU/EC-funded Network of Excellence consisting of 60 research centers from 34 countries, dedicated to building the technological foundations of a multilingual European information society. Currently, Georg Rehm is the Coordinator of the BMBF-funded project QURATOR (Curation Technologies, 2018-2021) and the EU-funded project European Language Grid (ELG, 2019-2021). Furthermore, he is involved as a Principal Investigator in the European project Lynx: Building the Legal Knowledge Graph for Smart Compliance Services in Multilingual Europe (2017-2020). He also was the Coordinator of the EU/EC-funded project CRACKER (2015-2017) which initiated, among others, the emerging European federation Cracking the Language Barrier. From 2010 to 2013 he was the project manager of T4ME, the original META-NET project. Since 2013, Georg Rehm has been the Head of the German/Austrian Chapter of the World Wide Web Consortium (W3C), hosted at DFKI in Berlin. Also related to ICT and standardisation, Georg Rehm is a member of the DIN Presidential Committee FOCUS.ICT. In October 2018, Georg Rehm was awarded the honorary appointment as a DFKI Research Fellow for outstanding scientific achievements and special accomplishments in technology transfer. Georg Rehm has authored, co-authored or edited more than 180 research publications and co-edited, together with Hans Uszkoreit, the META-NET White Paper Series Europe's Languages in the Digital Age as well as the META-NET Strategic Research Agenda for Multilingual 2020.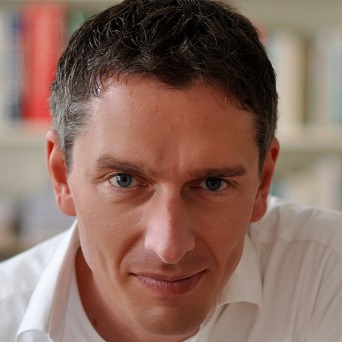 Current National Initiatives
In 2018, the German government published its national AI strategy with language analysis and understanding as one of five focus areas for innovation. To implement the strategy the government aims to invest approx. 3 billion EUR until 2025. This investment includes the creation of new AI centres, new funding programmes, new professorships, new international collaborations (e. g., with France) and a new national roadmap for AI standardisation.
META-NET White Paper on German
Aljoscha Burchardt, Markus Egg, Kathrin Eichler, Brigitte Krenn, Jörn Kreutel, Annette Leßmöllmann, Georg Rehm, Manfred Stede, Hans Uszkoreit, and Martin Volk. Die Deutsche Sprache im digitalen Zeitalter - The German Language in the Digital Age. META-NET White Paper Series: Europe's Languages in the Digital Age. Springer, Heidelberg, New York, Dordrecht, London, 2012. Georg Rehm and Hans Uszkoreit (series editors).
Full text of this META-NET White Paper (PDF)
Additional information on this META-NET White Paper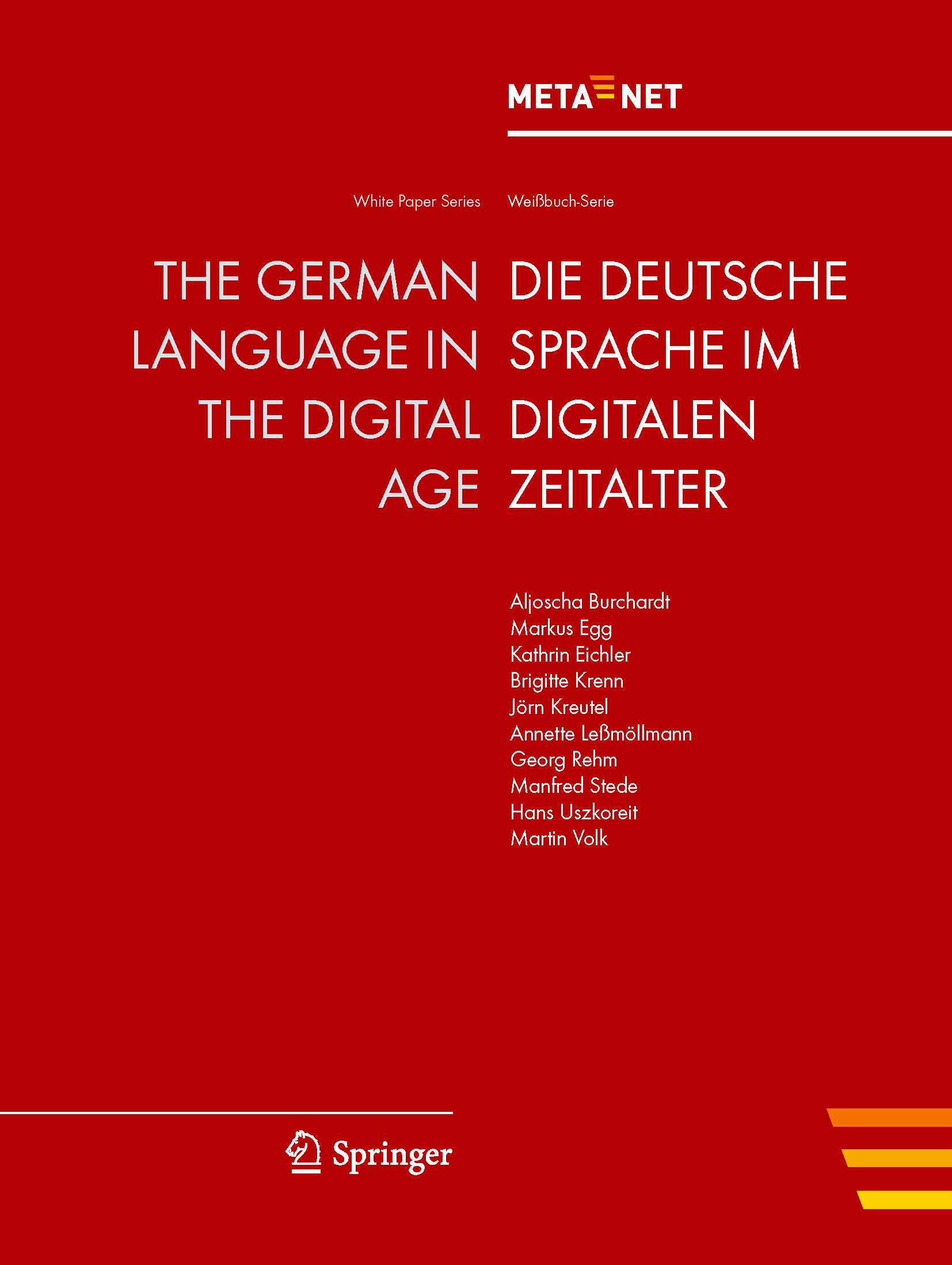 Availability of Tools and Resources for German (as of 2012)
The following table illustrates the support of the German language through speech technologies, machine translation, text analytics and language resources.
Speech technologies
Excellent
support
Good
support
Moderate
support
Fragmentary
support
Weak/no
support
Machine translation
Excellent
support
Good
support
Moderate
support
Fragmentary
support
Weak/no
support
Text analytics
Excellent
support
Good
support
Moderate
support
Fragmentary
support
Weak/no
support
Language resources
Excellent
support
Good
support
Moderate
support
Fragmentary
support
Weak/no
support